THEATRE & PERFORMING ARTS WORKSHOPS
Performance Arts at Colour My World includes a wide range of workshops in Speech, Media and Communication studies, Creative Writing and Performance Practice, perfect for budding presenters, authors and performers of all ages.
THEATRE & PERFORMING ARTS WORKSHOPS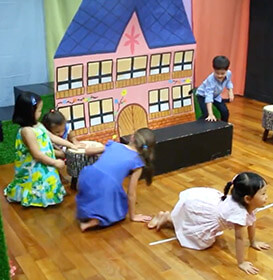 With a curriculum specially designed for younger performers, our introductory drama courses encourage children to begin to use gesture, movement, expression, body language and dance in performance practice.
Tackling a new story or theme every 6-8 weeks, children grow in confidence as their skill-set expands to incorporate group-work, effective communication and imaginative responses to story-telling and narrative-based activities, including mime, movement, puppetry and sensory exploration.
Mini-showcase performances in our black-box theatre throughout the school year help to motivate young performers in showing off the new skills and stories they have learned to family and friends.
Performance Practice: Colour My World Youth Theater (Black Box 7 yrs)
Building on their burgeoning communication skills, our Junior Speech and Communication skills workshops for ages 11-13 years aims to develop students' confidence and personal development by focusing on the art of speech-craft, persuasive speaking, effective presentation and leadership skills.
Our project-based programme – which offers a broad introduction to news, advertising and media production – is designed to encourage and foster critical thinking, creative problem-solving and independent learning, while strengthening core skills in both verbal and non-verbal communication.
A BRAND NEW PLATFORM FOR YOUNG ACTORS
We are pleased to introduce our newest performance programme: Black Box – a NEW and intensive 10-weeks of actor training and rehearsal for ages 14 years and over, culminating in a public theatrical performance.
In our Black Box Theatre young performers learn acting theory and in-depth training; studying methods from the likes of Uta Hagen and Konstantin Stanislavsky. These workshops are aimed at participants who wish to:
​investigate more mature themes
take a big step toward an acting career
gain more confidence and learn to collaborate with others.
Black Box boosts confidence and collaboration through professional actor training and public performance, providing a platform for young people to step into the wider world of acting.