Welcome to the return edition of the Colour My World's e-Bulletin. The team here are eager to kick off the fall term, so included in this issue are the most essential Performing Arts programme and staff updates. We look forward to seeing some familiar faces over the coming months, and of course some new faces too. Are you ready to pursue your artistic adventures?
Sep-Oct 2019
Performing Arts e-Bulletin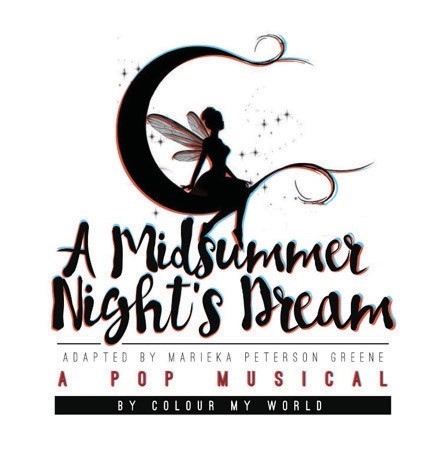 Intro2Drama
(4-6.5 years)
Building confidence and learning through movement, song, dance and play!
Intro2Drama is especially designed to develop life skills and boost your child's confidence.
Taught by experienced dramatists and theatre professionals your little one will develop a unique creative awareness and art through storytelling, movement and songs.
Focusing on key areas of improvisation, staging and vocalization, performances will be based around engaging thematic stories.
Share ideas. Become an active listener. Build a sense of pride.
Classes available on Tuesdays & Wednesdays
Call for Audition
A Midsummer Night's Dream
(5-14 years)
Shakespeare's classic love comedy returns to the Colour My World stage
We've modernized the 16th century dialogue, curated pop songs that complement each scene, and all we need now are the players!
If you have a talent for song, stylised dance and delivering lines with emotion, we want to put you on stage!
Come along to the open auditions and see if you have what it takes to star in this contemporary take of the Bard's tale.
Auditions for Colour My World's next smash hit will take place on Fri, 30 Aug 4:00-5:00pm, Fri, 6 Sep 4:00-5:00pm and Sat, 7 Sep 2:30-3:30 or 4:00-5:00pm.
Lead Cast 8-14 years old Supporting Cast 5-7 years old
Rehearsal workshops on Wednesdays OR Saturdays (with some Fridays) from September 2019 to Performance dates of 14/15 March 2020.
Speak Aloud
(8 years +)
Speech, Debate and Effective Communication
Hone your public speaking skills and ability to critically interpret information.
Be inspired by current events, articles, speeches, news, media and photographs.
Write well-structured and persuasive ideas that engage your audience and boost your confidence.
With a focus on core skills, such as:
Interpretation and Analysis
Creative and persuasive writing
Practical performance and presentation
Teamwork and effective listening
Themes covered will include:
Personal Branding & Video Journalism (Sep-Oct)
The Modern World (Nov-Dec)
Technology & Science (Jan-Mar)
Trinity Term (Apr-Jun)
Classes held on Wednesday, Thursday & Saturday
Trinity College London Graded Exam
(6 years +)
Exam seasons December and June
(Enrolment deadline September & February)
Delve deeper into the study of performance skills and receive credentials from internationally recognised, Trinity College London.
Enhance your self-esteem, sense of achievement and support your future goals.
The Trinity syllabus main categories are:
Communication Skills: speeches on personal experiences and opinions
Speech & Drama: character performances from a range of material and a showcase of self-expression.
Acting Skills: techniques in vocalisation, mime, improvisation, characterisation, staging and a study in dramatic literature.
Musical Theatre: disciplines in singing, acting, and movement are examined through integrative performance from a range of classic and contemporary pieces.
Colour My World's experienced facilitators provide in-depth training and personalised instruction. Small groups of students will be supported through material selection to final polishing.
Staff Updates
Colour My World would like to wish Gabor Zsóka (Fashion Design) a successful farewell.
And a warm welcome to Mark McPherson, Jonathan Daly (Speech, Communication and Creative Writing) and Kelvin Yu (Painting, Illustration) to the team.
Contact Colour My World for more
information, dates and times.