Saturday Creative Drop-In Workshops
For 4-7 yrs AND 8 yrs+
Sat 15, 22, 29 Feb, 7, 14, 21, 28 Mar 2020, 1:30-3:00pm AND/OR 3:00-4:30pm

(Please enquire weekday options by e-mailing info@colour-my-world.com)
Fees : For 4-7 yrs+ $450 for one 1.5 hrly workshop OR $850 for two 1.5 hrly workshops
For 8 yrs+ $600 for one 1.5 hrly workshop OR $1,140 for two 1.5 hrly workshops
Join us and learn about building, painting and mixed media appreciation in this visual art drop-in workshop, themed around Surrealist Plants. Explore diverse media in 2D and 3D guided by specialist facilitators, as you stretch your creative minds.
Gather round this ad hoc creative extravaganza and pick and choose your favourite media.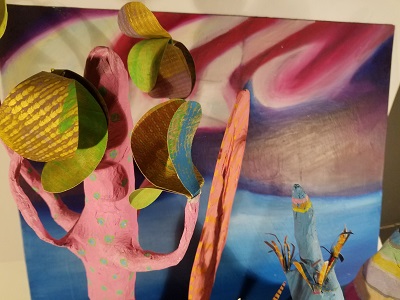 3D Art – (for 4 – 7 yrs AND 8 yrs+) 1:30 – 3:00pm
Design your own 3D model plant using mixed media, abstract shapes and colours. Inspired by the works of Adam Frezza & Terri Chiao your unique organic piece with surrealistic inspiration.
Collage Art – (for 4 – 7 yrs AND 8 yrs+) 3:00 – 4:30pm
Ideas sprout up when you take a step into the woods. Create a surrealist flowerbed of layered textures, with harmonic and contrasting colours, decorated with print materials.
Oil Painting – (for 8 yrs+ only) 1:30 – 3:00pm
Introductory class to oil painting when you will use organic lines and vibrant colours of plants as basis to apply oil painting techniques. Emphasis on mixing and blending colours, and creating some imaginative and whacky flora.
Clay Relief – (for 8 yrs+ only) 3:00 – 4:30pm
Get stuck into our clay sculpting workshop, where we'll mould a low relief inspired by Egyptian artefacts – fused with human and animal features (chimera); using subtractive and additive technique. We'll continually score, model and carve to awaken a majestic fabulous clay memento.