MINDFULNESS OF BEING – IDENTITY



This year, we at Colour My World are heightening our awareness of existence, our role on this planet, our relationships with others and the environment. For our Nov-Dec term, we invite you to contemplate the following. What is 'Identity'? What are the components that make up your 'identity', where did they originate and when did you integrate them into yourself?
To find out more about our Visual Arts Workshops, visit: 
https://colour-my-world.com/term-workshops-on/
ENROL NOW: Term starts from 2 Nov! Existing students do NOT need to re-enrol.

Explorer's Art   (3 – 5 yrs)
World of Bugs!
This winter, our Art Explorers shall step into the fantasy of their own imaginations. They will take inspiration from both known fantastical creatures as well as real-world insects to create their own whimsical take on the world we live in. Create a vibrant and neon coloured open terrarium filled with fantastical bug sculptures. Then illustrate and paint an underground bug colony fused with a combination of earth tones and sprightly colours.
Core Art   (5 – 10 yrs)
Familymoji
Our Core Artists will delve into exploring the subject of 'IDENTITY' through self-reflection, brainstorming, and discussions while honing their design and illustration skills. The three projects with unique aesthetics will be united through a common colour scheme: a coat of arms inspired family crest, a family mascot sculpture, and a self-portrait inspired by the style of contemporary artist Julian Opie. Throughout the projects, the Core Artists will explore different influences on their self-identity, from family values, cultural influences, to personal interests.
Ready-Set-Draw   (8 yrs+)
I Had A Dream
Why do we dream and what do they mean? Many artists use their dreams as inspiration for creating compelling stories, such as illustrator Dan-ah Kim. She creates mixed-media drawings layered with tactile textures and mesmerizing colour palettes. This term we will indulge in dreaming by making the impractical possible… at least on paper. Elevate your drawing skills by adding surface textures (such as textile and paper) and different mediums to enhance your masterpiece.
Sculpture Culture
(Pottery-Ceramics 8 yrs+)
Fundamentals Master Class
Learn to build three-dimensionally and excel in creation that takes form in art ware, figurines, sculpture, decorative and applied art objects. Acquire fundamental skills from pinching, coiling, slab to wheel-throwing, we shall experiment with new materials whilst utilising techniques of slip casting, clay modelling, and surface texturing.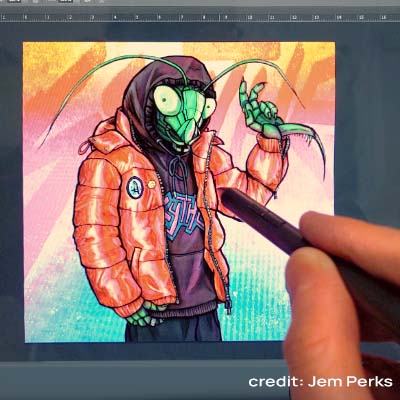 NEW! 

Pixelated



(Digital Arts 10 yrs+)
WATCH THIS SPACE for our fresh new offer of Digital Arts. We will be offering digital illustration, painting, and graphic design. Then bring your designs to life with the basics of motion graphics and animation. You are to bring your own devices and we shall show you how to use them for creative outcomes.
Tactile Textile   (10 yrs+)
Cube, Paper, Scissors
This term, the Japanese spirit mottainai is still on the Textile agenda with a unique three-dimensional patchwork project: Dekoboko, the art of sewing a volume. Select a recycled fabric colour scheme, learn basic paper pattern drafting and use this knowledge to create a soft, raised fabric cube.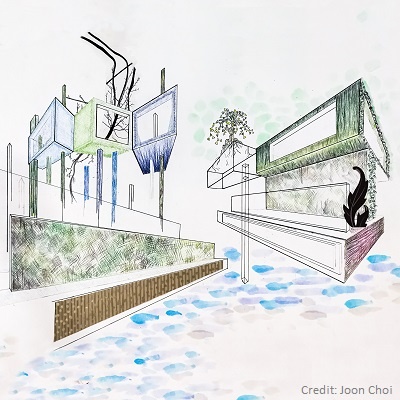 Architecture in Context  (13 yrs+)
Rendering technicalities with creativity, we explore architectural and interior spaces, with referenced imagery and floor plans of Hong Kong vibrant and historical landmarks to build a foundation of perspective, shape, space and form. Topics of investigation throughout the year range from Relocation, Restoration and Conversion, with rendition of a mix of architectural drawings, mood boards and illustrations; both conceptual and imaginative.
Sketchbook Studies / Painting (10 yrs+)
Hands On

A clenched fist, an outstretched palm, a graceful comb… Our hands can be one of the most expressive parts of our body. Learn to render human anatomy and form. Study Auguste Rodin's sculptures of hands, feet, and torsos. Create observational drawing studies, study muscle anatomy. Sculpt your own hand from clay and then use the newly-carved sculpture to create an observationally painterly outcome.
Mentor Studio (13 yrs+)
For art enthusiasts who are considering Art for GCSE, A-Levels, IGCSE or IB; or who simply enjoy being stretched artistically. Mentor Studio is open to any participants who want to strengthen their skill repertoire, build on their collection of portfolio-worthy artworks, or explore challenging themes through open-end self-enquiry guided closely by a mentor. Acquire in-depth knowledge and understanding of art-form, techniques and styles used as we guide you through various artistic decision and pathways to artistic achievement.