MINDFULNESS OF BEING – HABITAT

This year, we at Colour My World are heightening our awareness of existence, our role on this planet, our relationship with others and the environment. Our Sep-Oct term is all about the concept of 'Habitat'. While this word may typically be reserved for animals, plants and other organisms, ask yourself: are humans not animals too? If so, what are our 'natural' habitats like? Do we live separately from animals or do we coexist? We would celebrate the animal world, while being mindful of preserving abundant spaces for purpose of a meaningful coexistence with all animals.
To find out more about our Visual Arts Workshops, visit: 
https://colour-my-world.com/term-workshops-on/
ENROL NOW: Term starts from 29 Aug!

Explorer's Art   (3 – 5 yrs)
Impression Expression
This September, the Explorers will venture out into the world of prints. Start off with 'Print City', a series of city-themed print design, exploring patterns and complementary colours and the art of stenciling. Then, develop intuition and decision-making in the final project to create their own experimental abstract print & stenciled calendar creation. What arrangement (layering and composition) feels right? What colours and shapes best work for any given month? Let's tune into our artistic and abstract expression ability.
Core Art   (5 – 10 yrs)
Urban Surreal
Our Core Artists will start the year off with a focus on our natural and built habitats, both for humans and animals. The first project of 'Gauditecture' will be a great introduction to Gaudi's fantastical animal-infused architecture. Create an organic urban landscape relief adopting the artist's decorative style through a vibrant painting infused with characteristic mosaic art. Then, illustrate a Lift-a-Flap apartment façade filled with 'Wild Neighbours' (all the inhabitants will be animals!). Our Core Artists will use their imagination to advance their layout and drawing skills.
Ready-Set-Draw   (8 yrs+)
Portal To Elsewhere
Begin your drawing year with a little introduction to modern art history. Learn how Van Gogh and Matisse used perspective and colour. Study Van Gogh's famous work 'The Room' as a one-point perspective review springboard to be redesigned into a watercolour illustration. Then, amass all your fanciful imagination to render your own atmospheric window after observing Matisse's 'Windows' series.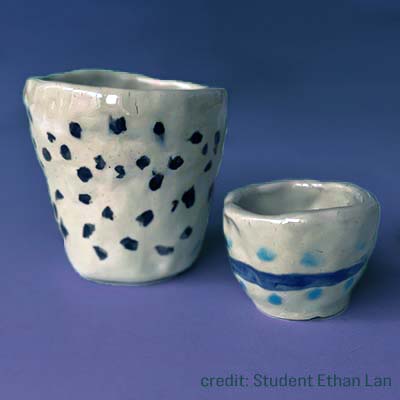 Sculpture Culture
(Pottery-Ceramics 8 yrs+)
Fundamentals Master Class
Learn to build three-dimensionally and excel in creation that takes form in art ware, figurines, sculpture, decorative and applied art objects. Acquire fundamental skills from pinching, coiling, slab to wheel-throwing, we shall experiment with new materials whilst utilising techniques of slip casting, clay modelling, and surface texturing.
NEW!  Pixelated

(Digital Arts 10 yrs+)
WATCH THIS SPACE for our fresh new offer of Digital Arts. We will be offering digital illustration, motion graphics, and the basics of animation. You are to bring your own devices and we shall show you how to use them for creative outcomes.
Tactile Textile   (10 yrs+)
Tactile Animalia
Embrace the spirit of 'Mottainai' (an expression of regretting waste in Japanese). You are invited to customise and re-fashion an existing canvas bag with decoration of your own fauna-themed tactile artwork. Use soluble fabric art to depict an animal-themed creation to highlight the gifts of nature abundant with activities in the animal kingdom. Bring your artwork to life by accessorizing it onto your newly designed tote, applying both machine and hand stitches.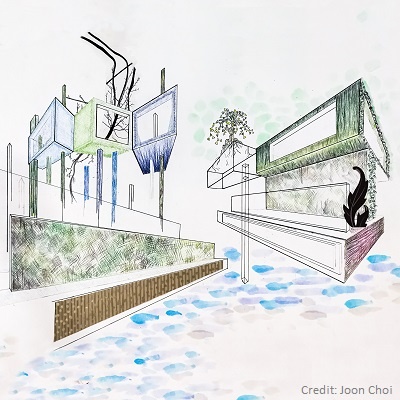 Architecture in Context  (13 yrs+)
Rendering technicalities with creativity, we explore architectural and interior spaces, with referenced imagery and floor plans of Hong Kong vibrant and historical landmarks to build a foundation of perspective, shape, space and form. Topics of investigation throughout the year range from Relocation, Restoration and Conversion, with rendition of a mix of architectural drawings, mood boards and illustrations; both conceptual and imaginative.
Sketchbook Studies / Painting (10 yrs+)
Blocked, Rendered, Lined
Use mixed media to create a single scene on wood board, combining perspective with graphical and painterly elements. Study the graphical compositions and dynamic linework of contemporary artist Evan Hecox's street scenes as well as traditional Japanese Ukiyo-e woodblock prints. Utilise rapid prototyping and work out a layered piece from idea and further sketchbook development to final painted artwork. Reference a personal or found photograph that shows a street full of architecture and people. Choose which parts to block with masked printing, to render out with gouache paint, and to bring out with line quality.
Mentor Studio (13 yrs+)
For art enthusiasts who are considering Art for GCSE, A-Levels, IGCSE or IB; or who simply enjoy being stretched artistically. Mentor Studio is open to any participants who want to strengthen their skill repertoire, build on their collection of portfolio-worthy artworks, or explore challenging themes through open-end self-enquiry guided closely by a mentor. Acquire in-depth knowledge and understanding of art-form, techniques and styles used as we guide you through various artistic decision and pathways to artistic achievement.